Muon Veto Insert - photomultiplier tubes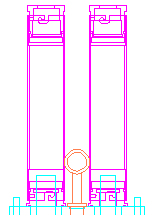 Two 28-mm diameter photomultipliers are housed in short iron pipes which attach to the end flange with bayonette mountings.
THESE TUBES, HAMAMATSU R6095, TAKE A MAXIMUM OF 1600 VOLTS
The tubes are pressed against the light guides by springs. It is these springs that keep the scintillators held in position at the end of the fibreglass tube, and aligned with the beam.
The sample rod (orange) emerges between the PMT housings.
---
Maintained by Donald Arseneau, asnd@triumf.ca For the TRIUMF ÁSR Facility
(msrorg@triumf.ca)